What is a 'smart' meter?    'Smart' meters wirelessly transmit granular usage data to utilities and 3rd parties in as small as one-minute increments, have two antennas, receive and implement instructions, can control thermostats/appliance, etc. and make remote shut-off possible.  What does 'smart' meter data indicate?  It is the same size and shape as you old meter.  

Northeast Utilities (NStar and WMECo),Massachusetts' largest electric utility 

"There is no rational basis for the implementaion of AMI" (Advanced Metering Infrastructure) aka 'smart' meters/infrastructure)" in response to the Patrick Administration's and MA Dept. of Public Utilities bid to hurriedly mandate so called 'smart' meters and their infrastructure via DPU Docket 12-76.    S

ee NStar's

 comment: 

HMSM highlighted version

 or original at 

 

Mass.gov

. Also see 

National Grid's at DPU Mass.gov
MA Department of Public Utilities and our electricityproviders are deploying  the multi-billion dollar (aproximately $7.5B if National Grid's program is deployed in MA) so-called  'smart' meter 'AMI' Advanced Metering Initiative.  Many hundreds of private antennae and 90′ data towers are being deployed in residential neighborhoods.  (Will your neighborhood be next?)  Attorney General Coakley estimates the cost to be $2,793 per meter.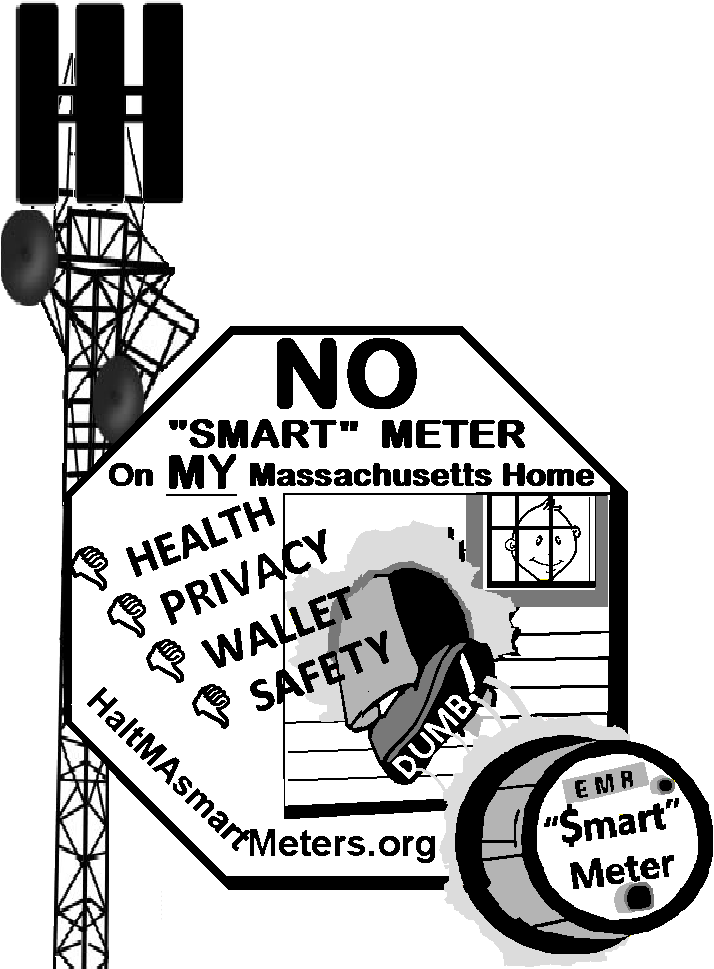 The meters pulse microwave radiation – an especially dangerous form – to transmit heretofore private home-life data and receive instructions from the utility and 3rd parties via three brand new  networks.  AMI replaces old-style meters and transmit-only digital meters.  (For 'what is a 'smart' meter? click here.)
Propaganda combines benefits of 'smart grid' and 'smart' meters together; don't be fooled. Much of 'smart' grid is beneficial but 'smart' meters cost a fortune, provide no net benefit for consumers and pose immediate and long-term threats to our:  Health, Wallets, Privacy, Security & Safety. 
Adverse Health Effects
3 min: First Hand Experience – Maryland Man with MS
(Johns Hopkins doctor letter) 
 CA Dept of Public Health: "literature on non-thermal effects…does not support a claim of no nonthermal  health effects from (RF)"  & Engineer/MD perspective , Bionitiative  & Maine Lawsuit
..
Invasion of Privacy

4 minutes: Jerry Day on Smart Meters
Also see CBS 5 min. video  "Inside your home is where the government is not supposed to intrude without a warrant…"  Congressional Research Service: "window into the lives of people inside of a home"
…..
..
..
$ Billions Now… Tariffs Forever
Fitchburg, MA Pilot Final Report (P. 9) 
Also see CT Attorney General, Feb 2011: "$500M on new meters that are likely to provide few benefits"  "no beneficial impact" $4.5B '09 Stimulus – Just DOE Total   Danvers spent ~$1,500 per household
Increased Security Risk: Hacking & Terrorism
 1 minute: Ex-Cia Director: "really, really stupid grid"
Also see MIT's "The Future of the Electric Grid"  "…the more smart meters … the greater the risk of security breaches or cyberattacks on the system.
Fire Hazard

10 seconds: 'smart' meter on fire
https://www.youtube.com/watch?v=Ah3nNo89-NU
Also see 2011 Ontario Fire Marshall:  "…smouldering fires and/or explosions involving either the electrical smart meter or the meter base"  & Wash DC Fox Story May 2013 & IBEW 1288 Opposition
26 fires in just 2 PA counties & suspected PA 'smart' meter 2/6/14 fire displaces 30
Click to see recent local 'smart' meter radio, TV & articles.
Earn quick cash with free spins online! Find out more at americancasinoguide.com.